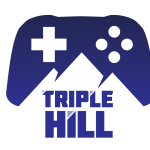 Website Triple Hill Interactive
We create, you Play! Independent Games studio from Kosice
As a 3D artist you will have a great understanding and a strong passion for creating both realistic and stylized 3D environments. In this role you will be working alongside experienced developers creating high profile games. You must be able to thrive in challenging environment with aptitude for critical thinking and analysis. Deep love for games is also a must.
Game we are working on:
Die by the Blade is a hardcore PVP sword-fighting game with one-hit-kills mechanic, local & online multiplayer set in samurai-punk universe. Unique chance to work on hardcore fighting game, which is quite rare and hard to be find elsewhere in our region! For more about the game check out : https://www.dbtbgame.com
Onsite work in Kosice
Responsibilities:
Creating high quality 3D models for use in games
Sculpting in ZBrush and/or Blender
Creating low-poly meshes with great topology
Authoring materials in Substance Designer
Texturing in Substance Painter
Produce visualizations and present environment concepts
Pro-active fixing of topology or material bugs and issues
Propose and execute performance optimization on static meshes
Your profile:
Skilled in technical aspects of 3D modeling as well as principles of modeling pipeline
Excelent understanding of light, color and materials
Understanding of optimization techniques commonly used in games (LODs, trim sheets, UV projection, etc.)
Proficient in at least one of these tools: ZBrush, Maya, Max or Blender
Can quickly learn new tools and is able to use abstractions from one software in another
Is able to comunicate ideas clearly, consistently and effectively
Is able to collaborate with creative team providing and receiving feedback
Passion for creating games and absolute determination to improve own skills
Extra points:
Great understanding of asset creation pipeline
Understanding of UE4 material authoring
Blender profficiency
Language skills:
English – B2
Candidates with education suit the position:
Secondary with school-leaving examination
University student
University education (Bachelor's degree)
University education (Master's degree)
Employee perks, benefits:
Flexible working hours
Education (certification in relevant technologies) and personal development
Access to the latest game tech
Work on unique game projects
Financial rewards based on performance
Your team:
We are compact, agile and highly skilled team of developers who love games and want to create fun experiences for players around the world. We are working with latest and most advanced game engines available (UE4, Unity) as well as bleeding edge modeling and animation software (Max, Maya, ZBrush, Blender, Cascadeur).
Sallary range:
800-2000 EUR based on skills, portfolio and performance
Please send your CV and portfolio the the email below