Report: Slovak Game Industry 2019
[siteorigin_widget class="FT_Widget_Heading"][/siteorigin_widget]
Turnover of Slovak projects and companies according to the Slovak Game Developers Association will reach EUR 56.6 million in 2019 and the number of new jobs will increase by 30% to 682 employees. The association, which represents digital game creators in Slovak territory, publishes an updated overview brochure on Slovak games and creators with a number of statistics.
The Slovak Game Developers Association (SGDA) has released an updated version of the Slovak Game Industry 2019 booklet, which shows that digital games development is an extremely attractive creative industry with a low entry threshold, but with a high level of competition on the world market. This year, according to the estimates of the annual survey, the turnover of digital games created by Slovak creators will reach EUR 56.6 million.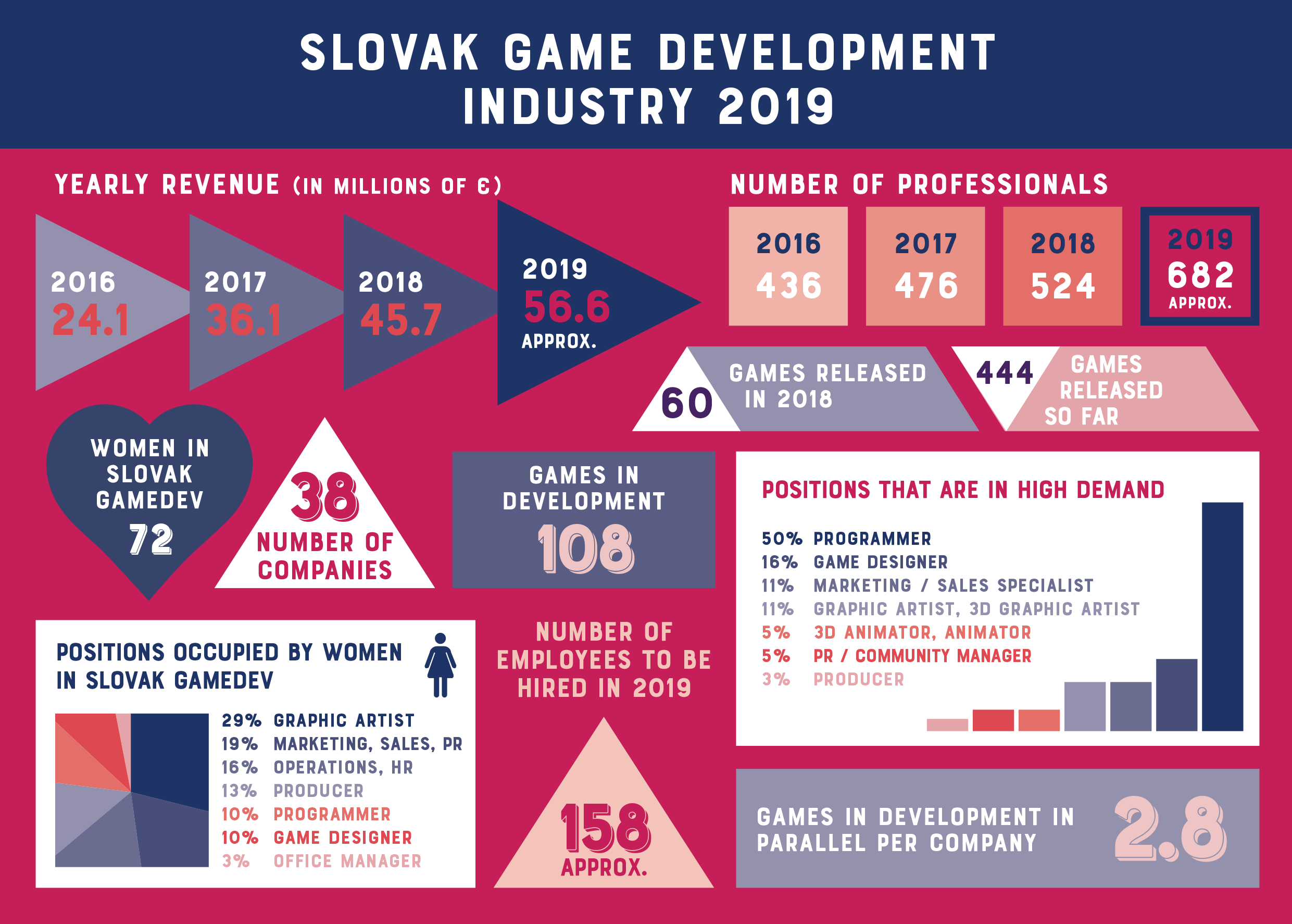 The brochure Slovak Game Industry 2019 is an overview document that provides a comprehensive view of the development of digital games – an important part of the Slovak creative industry. Published statistics provide detailed information on demography, demonstrations of both published and upcoming projects, as well as actors in this segment, including educational platforms and initiatives that aim to educate the new generation of creators. According to SGDA, these are still big problems when it comes to formal education, as the Slovak education system does not take sufficient account of this area of creative industry in its educational process.
SGDA further states that companies are currently developing on average 2.8 projects, all of which are destined for the global market. "Digital games are one of the most globalized industries of the creative industry and are therefore primarily created with a global audience in mind. The domestic market is negligible for our creators in terms of return on investment. In game creation, the standard is to create for the widest possible group of players. Thanks to electronic distribution, games from Slovak creators are available almost immediately to players from all over the world. We could say that they are our strong export product, "explains Pavol Buday, one of the founders of SGDA.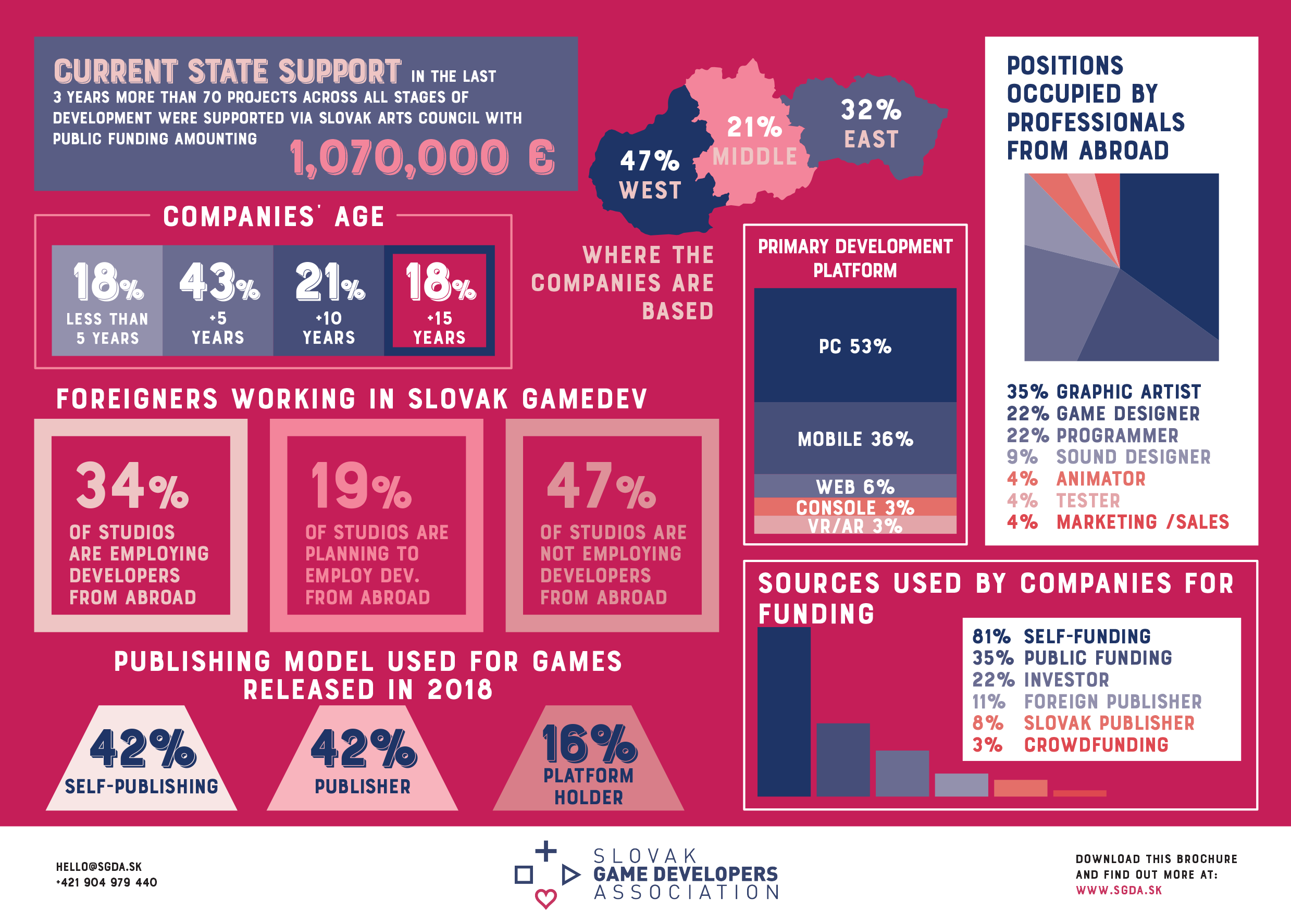 In Slovakia, 38 subjects of various sizes are currently involved in the creation of digital games, the largest of which, the Bratislava studio Pixel Federation, employs more than 200 professionals. 47% of studios operate in western Slovakia (mainly in Bratislava), in Eastern Slovakia (mostly in Košice) up to 32%. Compared to previous years, the differences between individual parts of Slovakia are slowly settling. More than 80% of companies have been on the market for more than five years.
According to the Slovak Design Museum, which systematically maps home video game production, hundreds of games have been created in the Czech Republic since the 1980s. "Currently, there are 289 titles in the digital games collection, and this number is growing every year. However, there are many more games to be discovered, we do not have a detailed overview of the period of flash games and even a short but extremely productive period of Java games on the so-called dumb phones. Overall, more than 400 of them were created by 2019, "says Maroš Brojo, curator of the game collection.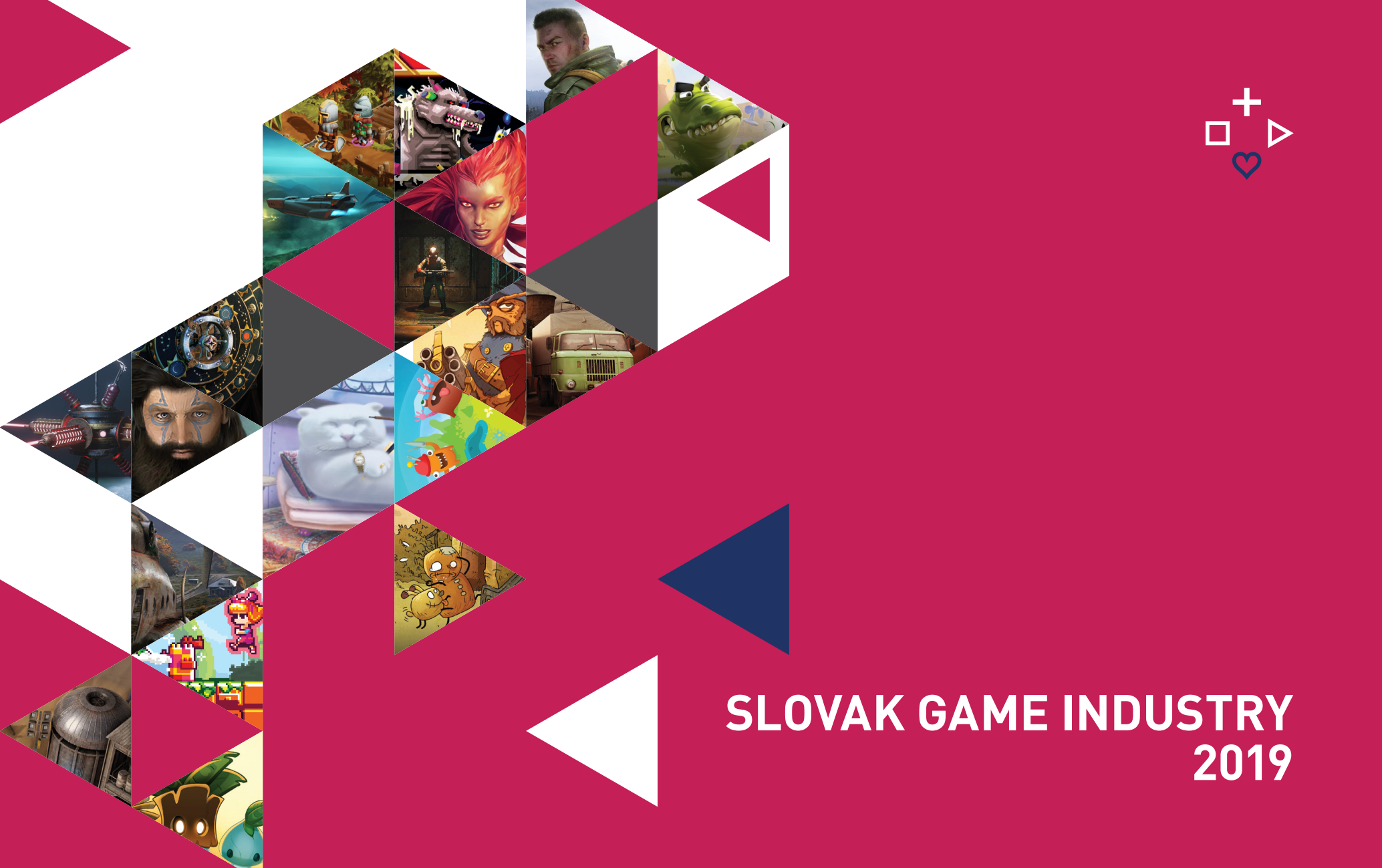 At the end of 2018, companies employed 524 professionals covering various technical and artistic disciplines, of which 72 are women. 34% of companies also employ workers from abroad and another 19% plan to employ foreign professionals in the near future. The most sought-after jobs include programmers, graphic designers and game designers. Turnover of Slovak computer and digital game makers increased from 2017 to 2018 by more than 26%. SGDA estimates that the ever-growing market and new opportunities will help Slovakia achieve turnover in the gaming industry at EUR 56.6 million in 2019.
A digital version of the overview brochure in PDF format can be downloaded from the SGDA website.